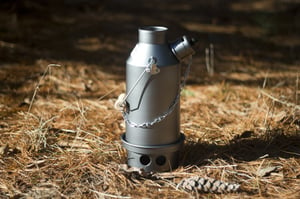 $

84.99
Ghillie Kettle .5 liter ANODIZED - Maverick
The .5 Liter ANODIZED maverick, enough for 1 large cup.
Made In the U.K. by the same manufacturer that makes the other british kettles.
The difference is the Ghillie Kettle has a cap with a whistle, this makes them safer and more efficient.
How does it work?
Water is poured into the spout. The whistle is added. The doughnut shaped tube/chimney contains the combustible material that lies in the bottom of the pan on which the kettle sits.
Once lit flames rise through the middle of the chimney. The hole at the side of the bottom of the pan allows more twigs, paper etc to be added and also allows oxygen to be sucked in as the flames rise (you can also add combustible items down through the center of the chimney)
The whistle is a very good safety feature which blows when the water reaches boiling point, It is the only kettle on the market that has the safety feature of the whistle.
Able to be used in harsh conditions: Wet and Windy.
Quick, Clean and Durable
Simple to use, no need for gas or artificial fuel: Use twigs, fir cones dry leaves and news paper.
Boils water in 3-5 minutes!!!
These are quick and easy to use and make boiling easy in winter or foul weather.
Includes sack/pack with drawstring.
Made of ANODIZED Aluminum
10 1/2" Tall with base stored
Weight 1 lb. 4 oz.