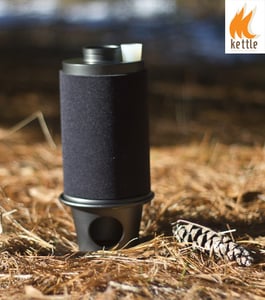 $

94.99
The Mkettle is the same concept as the ghillie kettle yet designed to be for the on the go lightweight backpacker. Weighing only 13 ounces it is light, highly durable, and small for easily stowing away in a day pack or in a pocket. With it's neoprene cap water can be stored and carried with you while you hike to your next destination.
Composition: Hard Anodized Aluminium, British Standard ISO10074:2010
Weight: 370g (13 oz)
Capacity: 530 ml (18 oz) About 1 Pint
Dimensions: 17cm (7") Tall by 10cm (3.75") Diameter
Pack: Fitted Rip Stop Nylon Carry Bag with D-Rings
Fuel: Solid, Eco-friendly, No Gas-canisters Required
Boil Time*: About Six to Ten Minutes, Six If You Are Good!
Transport: Use Stopper to Carry Water
Storage: Space for Matches Fire Starter Inside Firebase
Origin: mKettle, Nylon Bag, and Neoprene Sleeve all MADE IN THE UK